ACTIVE-LEVEL™ FOUR-CORNER AIR SUSPENSION
___________________________________
Our available Class-Exclusive Active-Level™ Four-Corner Air Suspension7 offers automatic load leveling and is designed specifically to help improve capability and maintain the exceptional performance Ram trucks are known for.
•
Adjustable air springs allow the driver to raise and lower the vehicle to one of five ride height settings
•
Dashboard controls let the driver manually adjust clearance
•
Smart sensors automatically lower the truck at highway speeds to help reduce drag and increase efficiency
INTEGRATED TRAILER HITCH
___________________________________
Ram trucks are equipped with an integrated trailer hitch that seamlessly connects the truck frame to your trailer, helping to provide a safe and secure connection. Our trucks also feature a four- and seven-pin trailer hitch wiring harness and connectors with convenient bumper integration.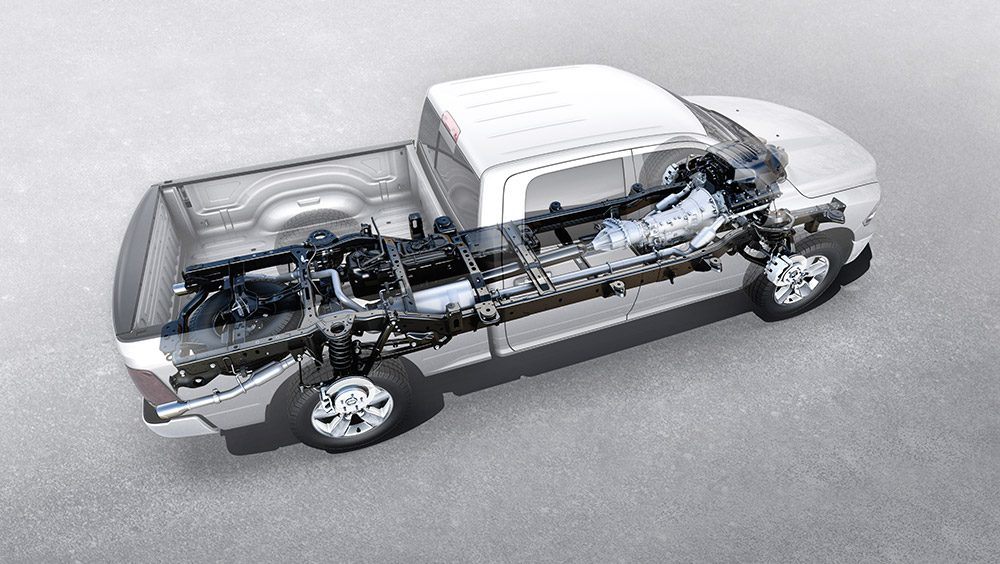 FRAME STEEL STRENGTH
____________________________________
Power through the heavy jobs. Frame steel strength of 50,000 psi helps Ram 1500 handle the heaviest loads.
•
High-Strength Steel Frame
•
Hydroformed Tubular Front Frame Unit
•
Eight Ultra-Tough Crossmembers
Disclaimer:
7. Class based on Light-duty Pickups.